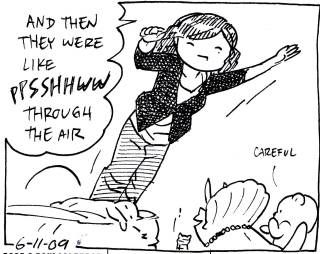 Last Friday, Chris and I went to see Circus Flora with two of our favorite people Cindy & Cullen Bunn. Circus Flora is truly a St. Louis treasure. This is the second year we've been and both years I have been absolutely floored by the talent and hard work of the performers. If you find yourself in St. Louis in early June, you must check it out!
Speaking of talent and hard work, Comic Book Resources did a very nice piece on Chris, so go check it out.
Also, I know I don't need to remind you one more time, but I'm gonna! If you haven't yet entered our Crossover Contest, you have until Friday, June 12 at 11:59 p.m. to do so. You can enter once here and once on Chris's blog - we're each giving away a prize consisting of all three volumes of Lunchnotes and a copy of Chris's 2008-2009 sketchbook. Good Luck!