As you know,
I've been working
on a Lunchnotes book! Well, get ready to have your minds blown, because the secret I've been keeping from you is that I've actually made THREE volumes of Lunchnotes, each collecting notes from a previous year (see covers below). To celebrate this historic achievement, I'm giving away one set of the three volume Lunchnotes mini-comics to one lucky Lunchnotes reader.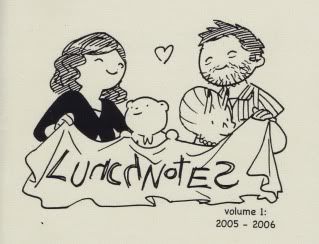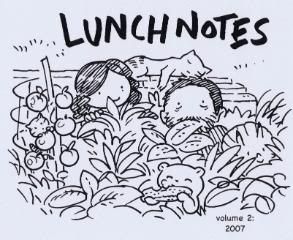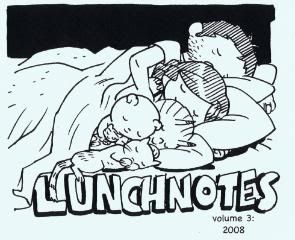 BUT WAIT, THERE'S MORE!!! Because I've also been chained to the computer making a sketchbook for Chris to sell at comic conventions this summer, I'll also give our lucky winner a copy of that!
IS THAT NOT ENOUGH FOR YOU PEOPLE? Good! Because there's one more twist, Chris is doing the same giveaway contest on
his blog
so you may enter once here and once there! THAT DOUBLES YOUR CHANCES OF WINNING! ARE WE AWESOME OR WHAT?!?
Okay, okay. You get it. Now what do you have to do to win?
Simple. All you have to do is leave a comment to this post saying someting nice about someone you love. It can be something nice about a parent, spouse, partner, sibling, child, significant other, friend, pet, etc. I don't care, just show someone who means something to you some love. 'Cause Lunchnotes is all about the love!
Winner will be chosen by a random number generator. You may only enter ONCE on this blog. You have until 11:59 p.m. on Friday, June 12th to enter. Winner will be announced on Monday, June 15th. Good luck and thanks for your support of Lunchnotes!